04 October 2019
IMO 2020 BAF Surcharge
On January 1st, 2020, the International Maritime Organization (IMO) will implement a new regulation "IMO 2020", in an effort to reduce the carbon emissions of sulphur oxide produced by marine vessels. Under the new regulation vessels in international waters will be required to use marine fuels with a sulphur content of no more than 0.5% (VLSFO), against the current cap of 3.5% (HSFO).
Like many ship operations, we at ARRC LINE have opted to use compliant fuel in our trade lanes and will therefore supply our fleet with VLSFO as of November 1st, 2019. The blue area on the map shown below marks the areas where IMO 2020 will take effect. Please note that the Emission Control Areas (ECAs), marked in green, will remain at the 2015 standard of 0.1% sulphur content (ULSFO).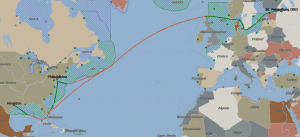 Market forecasts suggest that VLSFO will be significantly more expensive, which along with the investments in a treatment program to clean the bunker tanks before the fuel changeover, will have a direct impact on operating costs.
In order to partially offset the effect, ARRC Line will be making adjustments to the BAF structure for all shipments as of November 1st , 2019.
We thank you for your understanding and please contact our representatives with any questions.
ARRC LINE